Alright here are this months contestants!! Lets get the voting started!
aloxdaddy99Year/Make/Model:
2011 GMC Sierra SLE
Powertrain:
4x4 5.3
lifted/lowered:
King Shock level kit
Rims/Tires:
Stock tires and rims
Top 5 Mods:
King Shocks coil overs, Volant CAI, Recon LED lights, Car Craft seat covers,TriFold Hard Tonneau
Next Planned Mod:
285 DuraTracs with Black Chrome Rims
McMahanYear/Make/Model:
2005
ChevroletSilverado
SS
Powertrain: LQ9 6.0L 364CILifted/Lowered:
2/2
Tires/Rims:
Toyo Proxes ST II 305/45/22 - 22X9.5 Boss 313
Top 5 Mods:
Comp cams 228R, 903 springs, true dual 2.75" stainless mandrel bent
exhaust
, Circle D 3'000K stall, Transgo HD2 shift kit
Next Planned Mod:
4/6 Drop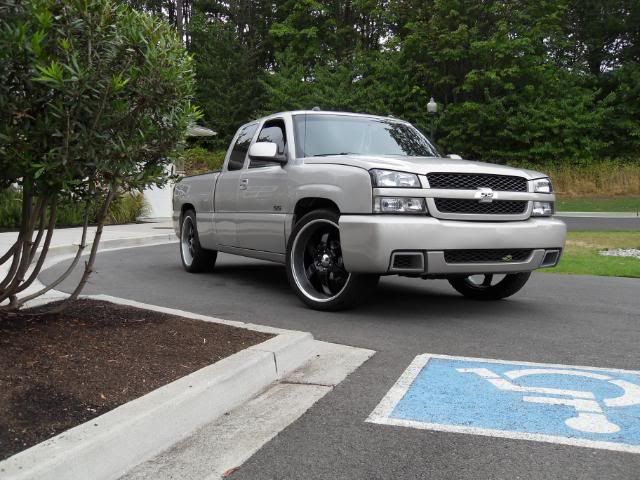 Marko54 Year/Make/Model:
2007 Chevrolet Suburban
2500LT
Powertrain:
6.0 liter with 480 HD transmission
Lifted/Lowered:
Suspension leveled by adjusting torsion bars
Tires/Rims:
265 /75R16
Goodyear
Duratracs on Stock 8 Lug wheels
Top 5 Mods:
Leveled Suspension,EdgeCS Tuner/Programmer,Go-Rhino Pushbar, Cabelas Trail Gear seat coversNo Future
Mods
Planned,Like it the way it is
reggiecab2000Year/Make/Model:
2000
ChevroletSilverado
Powertrain:
4.3L V-6, 2WD
Lifted/Lowered:
2" leveling kit, 3" Fabtech Spindle Lift Kit
Tires/Rims:
305/70R16 NITTO Terra Grapplers on 16" PROCOMP 7089's
Top 5 Mods:
Airaid CAI, Poweraid TB Spacer, Flowmaster
Exhaust
(dumped), Hypertech Max Energy Programmer, 4.10 gears
Next Planned Mod:
powerslot rotors with hawk pads i suppose...