well i am glad this happened to me and not the wife (she and 6 girls just got back from kids camp) the wife needed the burban for the day so she was going to drop me off at work. on the trip in we heard a strange noise from outside the burban, so we pulled into the gas station to look for it and get a cold drink. well we got a flat the pass side rear blew a sidewall 4" slash cut (not sure how it went) we removed the spare and the jack and needed tools.
i decided to verify where chevy likes to have the jack (same place that i set it under the axle next to the shock mount). and then i poped the wheel cover and lossened the 6 lugs. i then jacked the beast up and removed the bad tire. i went to install the spare and it was not high enough (i needed 2 more inches (sounds like a sig line...lol) so under the beast i go to reinstall the jack handle and as i am streching to get the handle lined up with the jack end i heard the wife scream "it's falling of the jack" as i look up i see the suburban falling at me in what seemed slow motion. i got hit in the face and the bumper ripped a gash in my arm and she dropped to the ground. i was not hurt too bad (if she was not there i would have been under it and well...) i had to go buy a new floor jack and jack her up and got the new spare on. the support pin in the jack brok and the jack failed to hold the suburban. the out come was lucky this time but now i got a small cheap floor jack in the surban now and tossed the factory jack and i got a set of wheel chocks $3 Wal-mart.
ok here is the pics of the jack.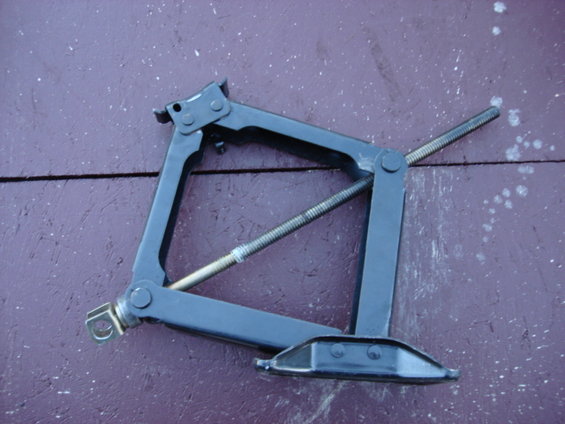 mike