Discussion Starter
·
#1
·
All right, So Monday night, my passanger side brake hose blew out on me on my way home from work. Ended up driving the truck home with barley any brakes. Scary, very scary. This was the damage
Of course, when you have a modded vehicle, sometimes the direct replacement part will not be the one you need. Well, that was my situation. Nobody could find the part I needed. Anyways, after a long battle trying to figure out what part "could" work, I figured it out.
I had the cashier at Autozone bring up all brake hose's for our trucks (88-98's). Looking at different lengths, I found one that would work. Front Brake Hose's for k3500 trucks. The stock length for a 1500 is only 12 or 13 inches. The stock length for a k3500 is 22inches. My old hose was about 21 inches or so.
Links to both front hose's, these are Autozone's.
Driver Side- 70053 is the part number
http://www.autozone.com/autozone/pa...hByPartNumber=true&itemIdentifier=124519_0_0_
Passenger Side- 70054 is the part number
http://www.autozone.com/autozone/pa...4&fromString=search&isSearchByPartNumber=true
So now, comes the install part. Everything went back together fairly smooth. I ended up breaking the metal line, so I had to fix that part. I just cut about 6inches off the metal line, and put new metal there. Easier than replacing the whole line it's self.
I did, have to file down part of the hose, where it bolts to the caliper. You only need to file off a little bit, so it won't hurt anything really. Of course, with replacing the line, I had to bleed the brakes (I did all of mine, since I also replaced my master cylinder). One nice thing about the Autozone hose, is that you get this bracket with them. Which, at first I was going to take off, but decided to bolt this up to my truck instead. A good way to hold the line back, from rubbing on my tires.
Pictures of new line installed and bracket bolted up.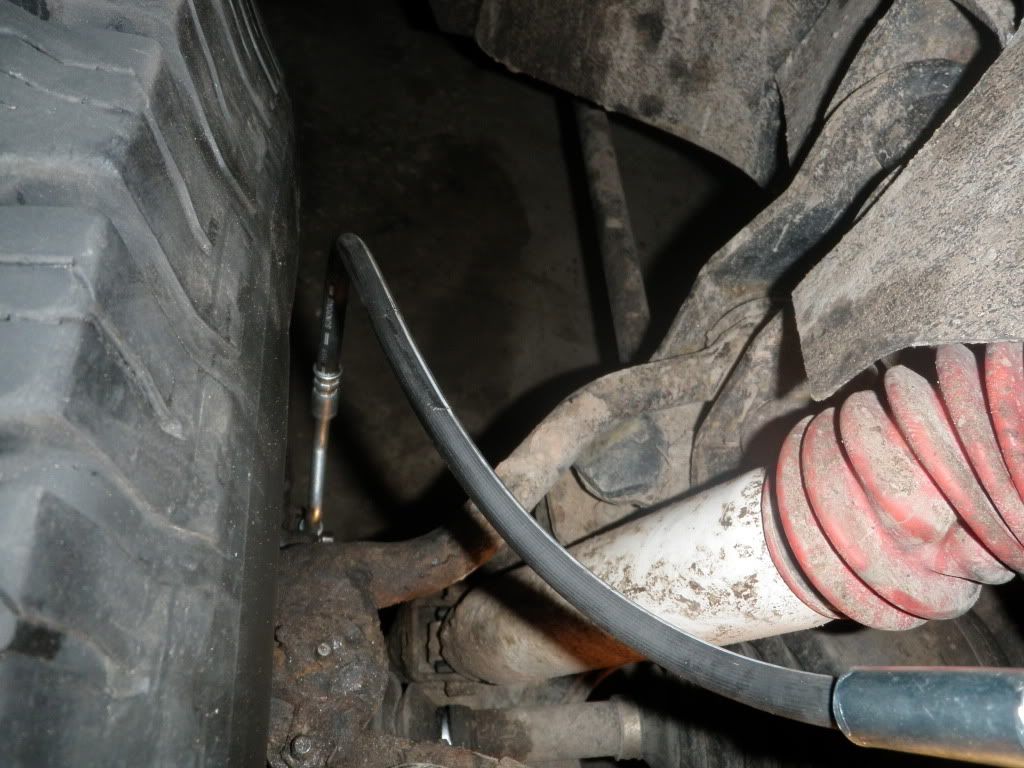 Tire is straight in this picture. Lot's of clearance
One more picture of clearnace
Hoping this helps for anyone looking for extended brake lines. When I go SFA, I'll be using Fabworx's extended brake lines, but I'll be replacing my driver side sometime next week now so I don't have to worry about another blow out anytime soon.