Do you have a modern Chevy Suburban? If not, would you buy one?
Anyone over the age of 30 must remember the old-style Chevrolet Suburban. All of our parents had one it seemed, and many of our grandparents had one as well. Am I right? It was the perfect vehicle for hauling kids during the week, towing a boat to the lake, picking up groceries one day and a few sheets of 4'x8' plywood the next.

Once it got a few miles on it, Mr. Smith, who used it for the family truckster, decided to sell it. So, Mr. Johnson bought it and he was going to use it as a contractor vehicle, or for his landscaping crew or to go to job sites. When a major mechanical problem occurred with the 350 or 454, the engine was rebuilt. The same for tranny issues as well because the overall life of the vehicle was so lone with different owners able to get different uses that it might stay on the road for 20+ years.

That's the way it was, at least from the early 1970's until at least the 1999 model (and for some configurations until the redesigned 2007 model).

QUICK PHOTO HISTORY OF THE CHEVY SUBURBAN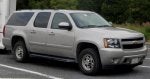 Starting with perhaps the 1973 Suburban, when you looked at the interior, you got a pretty basic layout and configuration. Yes, it could haul some people, but the rear deck has a smaller 3rd passenger seat as an option (or 3rd party) and most people had the two-row configuration with a fold-flat rear seat - yes, allowing you to haul a 4x8 sheet of anything that comes in a 4x8 sheet.

The Suburban has changed dramatically on the interior
NOW, when you look at the 2007+ models, built on the GMT900 platform, you get a different interior layout. No longer is the Suburban the all-purpose vehicle it once was. It's clearly not designed for anything except for people hauling. The 3rd row seats do some out, but try folding flat the 2nd row and getting a sheet of plywood in the back. Can't be laid flat.

Suburban sales have dropped of sharply over the past few years, mostly due to the high cost of fuel and the thirsty nature of the 'burban itself.

Has the purpose for the old-style Chevy Suburban gone and will never return?
My question is - if nothing else, should a utilitarian version of the Suburban be offered once more to meet the hand-me-down paradigm that worked so well for two or three generations? Or, have other vehicles such as the Avalanche, Silverado and Traverse stepped in to fill the market gap left when gasoline prices went sky-high, leaving the Suburban as a dinosaur of the past, with no real purpose in the 21st century America?

Thoughts? I'd love to hear them.