Discussion Starter
·
#1
·
Very excited about my work/play truck and being here!
My story is this....
Ive been a loyal Ford guy since I could drive. I fell in love with mustangs and my 92 5.0 LX was my first car. I owned many other mustangs since then but finally bought back the 92 and need to restore it to its former glory....but enough about cars and fords lol.
I always had great experiences with my ford vehicles. I owned 3 ford trucks. A 89 F-250 4x4 with a 5.0 (it died on me...to hell with the non-HO 5 liters!) A 2003 f-150 2wd with a 4.0 -v6, that I enjoyed but it was terrible on gas and was useless offroad. Then I had my 01 ranger 2wd with a 3.0 v6. Well I owned it until i recently got my 1500.
I have been wanting a 4x4 for a while now. It does snow here sometimes in oklahomo and its a pain in the ass for us not used to the ice and snow to drive in it with a 2wd vehicle. So this winter got me to thinking about finding a ol 4x4. (even though ive always wanted to keep one in the stable) Fast forward to this spring. It rained and rained here to the point it flooded my yard where my beloved 5.0 mustang sat. It got into the cab and soaked the floors....and i was helpless to help it. My ranger couldnt get enough traction to pull itself out of wet grass much less out of water and mud with a car behind it.
But ill be damned if I wasnt going to try. lol I got me a chain and got on some higher ground...hooked the water logged mustang to my bumper and slowly started trying to pull it out.... surprisingly it moved about 5 foot but then the ranger let loose. It spun and spun till i finally ended up stuck as could be. I did everything to get that little **** of a truck out. Nothing worked. I finally called a friend with a new dodge (eck
) 4x4 to tow me out.
I told my fiance, that was it. The ranger, while reliable, was useless to us otherwise. We have a baby boy and that meant all 3 of us couldnt ride in it together safely, so it wasnt a good people hauler...also Im 6'2 and i felt like a sardine in a tin can when in it. It had a 3.0 v6 that at best got 17 or so miles per gallon. Hardly good when my cousins avalanche with a v-8 got 16mpg on average. And to top it off, it was USELESS for offroad, towing , or anything else a truck is intended to do by design!
So I needed a good solid dependable truck that had to be, A-dependable, B-4x4, C-extended cab, and D- have a v-8 for towing.
I finally decided I wanted a Chevorlet or GMC truck. Based on the reliability ive seen with friends of mine chevy/gmc trucks and my own grandpas 77 3/4 ton that still runs great today! The ford offering felt "cheap" and did bad enough with v6 gas mileage...I can imagine the wimpy v-8 mileage.
Price was a factor...these trucks keep their value, with good reason. But I happened upon craigslist the week or so after my search started, and found an 02 extened cab chevy 4x4 with the 4.8L v-8 at a dealer in arkansas. Normally I shy away from dealers but this was a smaller dealership and the price seemed great....
He wanted 4200$ for it with 108k miles on it. Not bad I dont think. I went and test drove it and immediately saw why it was lower than the comparable trucks that were going for 6/7000$ else where.
Its white, as you can see in the pic below, and that damned white chevy paint peel is a B**ch. lol It also has a rather bad dent near the gas door and one in the extended cab door on the same side. Everything is mechanically fine though as far as the dents. It also had bad u-joints. Otherwise it was in great shape.
I bit and bought it the next day! YAy for me! I replaced the U-Joints myself and greased all the points. Changed the oil to mobil and am currently looking for a extended cab door and bed. I have a buddy who has a paint shop that can repaint it all for me so that helps.
The engine is strong and holds great pressure! It shifts great too. Once I get the dents fixed and paint done, im going to get an aftermarket exhaust installed, then a either 4 or 6 inch suspension lift, then a new set of meaty treads! Also have to have a decent sound system in it...the factory speakers are...less than super. lol I do wish the 4.8 had the torque of the 5.3 but im not complaining that much. Its got plenty of power to do what Ill do with it.
Anywho I apologize for the lengthy post, but at any rate, heres a pic of her in her current state...sorry for the poor quality and angle.
and for fun, the mustang...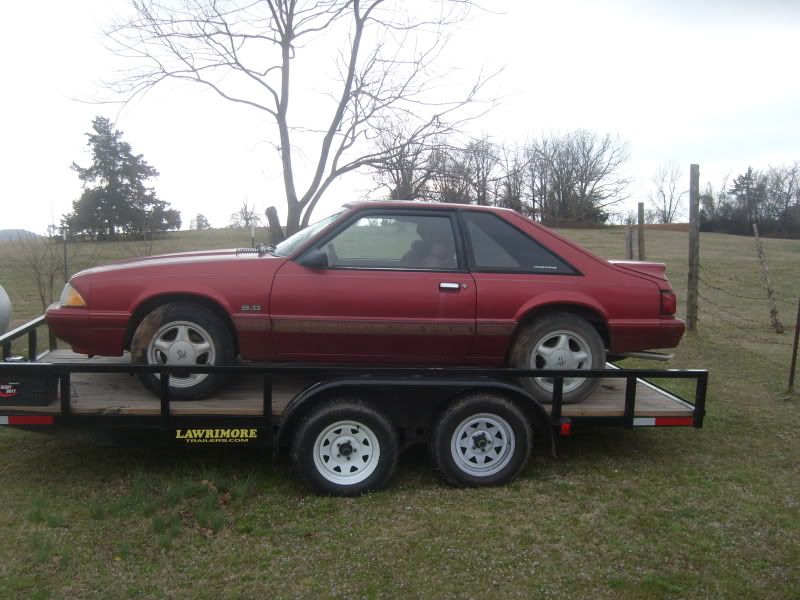 The useless 03 f-150...
The 03 lighting I almost bought and was driving over the weekend to test drive....(nothing bad to say about this beast, just too expensive)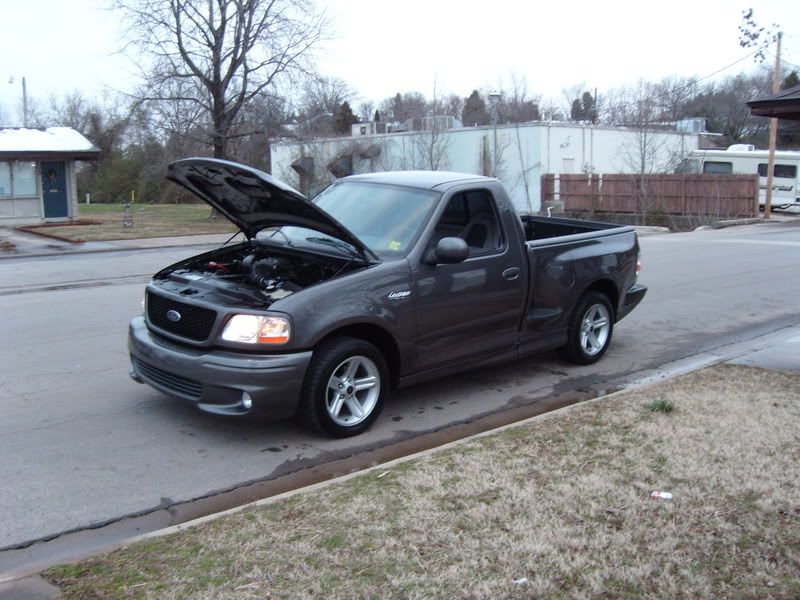 and the most useless of all , ranger...