Discussion Starter
·
#1
·
That truck gave me a long time and 265,000 miles of good service. Early last fall it began exhibiting some oil blow-by which would preclude it from passing emissions which was due that October.
To get it through emissions I replaced the customary synthetic oil with heavier weight conventional oil and STP High Mileage Oil Treatment + Stop Leak. Even with the stop leak, it still seemed to burn an unusual amount of oil. My truck is a daily driver and with winter coming I was concerned about having such heavy weight oil in the engine. About a month after passing emissions, I went to replace it with my customary synthetic 10W30. The oil drained out the dreaded coffee color.
For those who do not know, that indicates coolant is getting into the crankcase.
When I checked the coolant reservoir there was indications of oil contamination. I spoke to my mechanic and he confirmed blown head gasket(s).
With the rings and gasket shot I was looking at an engine rebuild or replacement both of which cost about the same and was double the value of the truck itself.
The other aspect I had to consider with an engine rebuild/replacement was that there would be a zero-mileage engine coupled to a transmission, drive-shaft and differential all with 265,000 miles on them. Should they break, replacement of those three items would also exceed the value of the truck.
I drive 60 miles a day to and from work. I also make frequent road trips encompassing up to 400 miles round-trip. I came to the conclusion that I could not afford (literally and figuratively) a major break down especially if I was on a road trip. As much as I love that truck, I made the painful decision to retire it.
If I lived in a rural area where I had a shop to work in, I may have kept it as a project truck.
However it is not the end of life for the truck. A co-worker is buying it to use as a weekend work truck. I have been up front with him about the engine issues, be he says he knows someone who can fix it.
Meanwhile I have bought a replacement. Took me three weeks of searching but I found a 2015 1500 LT 4x4 double-cab. I was not looking for a 4x4, but a 2x4 is near impossible to find in my area.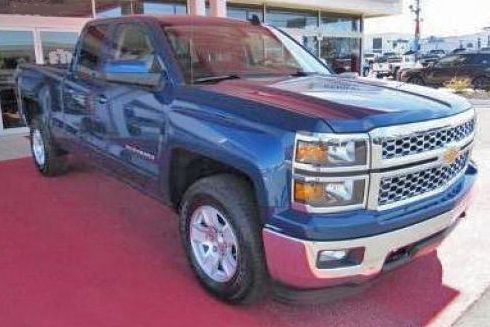 It has a 4.3L V6 which is rated at the same 285HP as the 4.8L V8 in my 00 along with a 6-speed transmission. It has power driver's seat, Bluetooth, back-up camera (which I am still trying to get the hang of) and remote start which I am loving this time of year. In addition to the USB ports it also has a 110v outlet. I am not sure what I would use that for.., after all at 150 watts or about 1.35 amps, it is not as if I could plug a cordless tool charger or even my laptop into it.
The tonneau cover on my old truck fits the new one which is saving me a couple hundred bucks which will go towards a bed liner. I have not yet decided on a drop-in or spray/roll on as yet.
In my 60 mile round trip to work, I am often able to get a combined 22 mpg. Granted I am a somewhat conservative driver.
I have only driven the truck for a week mostly two and from work but so far I really love it.