Northern's Ride (1993 Dually Suburban)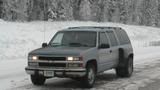 Ride of The Week Perhaps...lol
​
1 Tonne Suspension
350HD Motor
4L90 Transmission
Full Floater 456 Geared Rear End
Edelbrock Intake
Comp Cam
Headers
dual Exhaust
Cherry Bomb Mufflers (Going to swap them for a set of Flows)​
Future Mods and Upgrades

Have it all stocked and ready to go, just need to get myself going......lol

Mini Computer (Mini ITX Mobo)
Dual 7" Screens and a drop down 15" LCD (havent figured out the install of that big screen yet, Heavy)
Wireless Internet and a Wireless Modem Card
Wireless Keyboard and Mouse (Integrated under the dash, If it works out) Have to completely think this through prior to any Dremel work.
Going to use a 750 Watt Power convertor with Dual Batteries, Hopefully that wont give any power glitches.
DVD Player (dont think i'll be needing a Burner)
Also going to try to integrate a ps2 in the rear for the kiddies ( :wink2: )

See allot of this done on Tv but i want to try without going out and spending Thousands of dollars for that custom look, i want all hands on approach.​